How to Love Series :: 4 of 17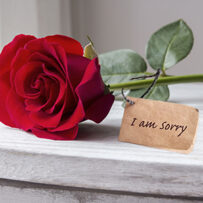 Four Steps to Making Amends
Making amends is about others and restoring those relationships that you have broken or damaged. The desire to make amends arises when you're willing to take responsibility for what happened and the impact it had on those involved. It's not suitable for everyday mishaps—it's best used for significant incidents that warrant extra consideration and may simply depend on the importance of the relationship.
When you harm others and make no effort to repair the relationship, you tend to avoid those people and large areas of your life become closed off. When you begin making amends, you have the opportunity to restore your relationships and have those areas open up again.
Seeking to mend a relationship involves forgiving yourself, offering a sincere apology, making necessary restitution, and accepting responsibility by taking steps to avoid making the same mistake in the future.
Step 1: Forgiving Yourself
Being able to make amends to others starts with forgiving yourself. In his tiny buddha® blog Michael Davidson says, "Forgiving yourself is far more challenging than forgiving someone else, because you must live with yourself and your thoughts 24/7."
When you've done something you consider wrong, the accompanying emotion registers in your nervous system. For example, you may feel guilty if you mistreated someone; or you may feel sad, if you made a mistake that cost you a friendship. When these emotions register, they usually contribute to negative thoughts and limiting beliefs you have about yourself, like "I can't do anything right," or "I'm a bad person."
More than anything else, forgiving yourself requires that you acknowledge your actions have consequences for yourself and others. However, any attempt to forgive yourself—before letting go of the negative emotions and beliefs—won't work. You'll just continue to berate yourself, because your nervous system is in control.
Step 2: Offering a Sincere Apology
In order for an apology to be effective, it must be genuine and go to the heart of the matter for the person you wronged. Consider carefully what you're going to say. Be accountable—don't make excuses or deflect blame. Be sure to include the crucial words, I'm sorry.
• State what happened.
"I'm sorry I didn't pay you back when I promised I would."
• Acknowledge the impact your actions had on the other person to show that you fully understand.
"I know it was my fault that you had to cancel your vacation."
• Express your desire to restore this relationship.
"Our relationship means a lot to me."
Step 3: Making Restitution
Whether you've robbed someone of time, money, property, trust, attention, dignity, or well-being, it's important to do what you can to restore that which you've taken.
The essence of restitution is finding out what the other person needs and determining if, and when, you can provide that. It starts with an inquiry.
• Ask what the person needs from you to restore the relationship.
"How can I make it up to you?"
Then, let the other person respond. Just listen. If the request is ethical and you're willing to fulfill on it, you have two options:
• Agree to their request and time frame.
"I can do that when I get paid on Friday."
• Suggest an alternative if you're unable to comply.
"I can't pay you in full now, but I will make weekly payments."
Step 4: Accepting Responsibility
Accepting responsibility is about making a genuine change in your behavior and taking on a whole new way of living.
Everyone has made mistakes, but the only mistakes that will undermine your happiness are the ones you're unwilling to admit.
Be honest in expressing what you've learned from this mistake. This helps the other person trust that you're sincerely making amends for your past behavior. Describe the ways in which you're making changes in your life to refrain from repeating the wrongdoing.
• Admit your transgression.
"I was wrong to take your money and not honor my agreement."
• Tell what you've learned.
"I've learned that I've been totally unreliable about money."
• Declare any action(s) you're taking.
"I'm participating in a debt management course, and I'm having 10% of my paycheck directly deposited into a savings account."
Keep it simple. A long apology will start to lose its power. Make your points clearly and effectively.
Give the other person time to respond. Grant them the space, time, and freedom to vent, if necessary. Be willing to listen without judgment and accept their point of view, even if some of their perceptions of the situation seem inaccurate. They have every right to feel the way they feel.
Keep in mind, although making amends can free you, it doesn't always mean that the relationship will be restored—or that the process will be sufficient for the other person to forgive you.
In the Alcoholics Anonymous' 12-Step program, Step 9 states, "Make direct amends to those people you have harmed wherever possible, except when to do so would injure them or others." When direct amends are not possible or appropriate, there are many ways to complete the four-step process without personal contact. For example: you could write the person a letter; you could imagine yourself having a conversation with the other person; you could create a collage. Your mind does not know the difference between what is real and imagined, which is why visualization is so powerful.
You will be amazed how clean the slate becomes by making amends. Remember to be gentle with yourself throughout the process.
If someone is making amends to you, let them. Be generous and be gracious. Refrain from making the restitution you request out of proportion to what they did.
Love and Be Loved
Restoring love in all areas of my life make a real difference. You can read the guide to living an extraordinary life in my Amazon #1 Bestselling book—What Would Love Do Right Now?
Consider there are only two predominant things going on in your life. You either have something you don't want (shame, blame, guilt, anger, envy, frustration, resentment, or regret). Or, you want something you don't have.
Support is Available
With over 30 years of providing Mind/Body Repatterning breakthrough results, feel free to schedule a session with me at ExtraordinaryOutcomes.com. Sessions available in person or by phone.
What can I expect from my session? We will identify and release negative beliefs, thoughts, feelings, behaviors, habits, and detrimental patterns that prevent you from living an extraordinary life. After your session is complete, the ability to have more love, adventure, creativity, passion, and joy is possible.
Lovingly Submitted,
Victoria Benoit, M.C.
602-864-7662
Mind/Body Repatterning Practitioner, Speaker, Bestselling Author
Success Stories abound!