Live an Extraordinary Life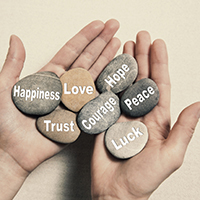 Live a life you love—a life where you can hardly wait to get up; a life that's overflowing with love, joy, passion and fulfillment. All this—and more—is your birthright.
OWN IT TODAY!
What Would Love Do Right Now? A Guide to Living an Extraordinary Life, the first book in the Extraordinary Outcomes Series, is designed as an exploration into how to live a heart-centered life.
In this step-by-step guide to living an extraordinary life, Victoria shares her philosophy about the power of love, forgiveness, making amends, and emotional healing in those areas and relationships that effect your quality of life today—family, career, romance, health, finances, and self-expression. You will be able to release and heal the pain and suffering from past heartaches, disappointments, and failures that undermine your ability to manifest your dreams and prevent you from living the life you were born to live.
Paperback and eBook Versions Available
Downloadable Worksheets Provided

Three Magical Words for a Magical Life, the second book in the Extraordinary Outcomes Series, is designed for you to free yourself from past hurts through the power of love, forgiveness, and gratitude.
Using a four-step process, you will take an inner journey into some unhealed emotional territories, but the rewards will be worth it. You will experience a boundless intimacy in your relationships starting with your parents, romantic partners, children, siblings, extended family, friends, and work associates. After completing the process, you will have a clean slate to design a magical life.
Paperback and eBook Versions Available