Events & Opportunities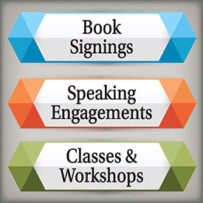 BOOK SIGNINGS
Meet the author! Victoria will be available to give a brief overview about her fascinating journey and how she came to write five books. Get a personalized, signed copy of her first book, What Would Love Do Right Now? A Guide to Living an Extraordinary Life, hot off the press! The other four are in the editing queue!
During this event expect to be inspired. Discover for yourself, what love would do right now in the area of life that's most important to you. Leave with a guide to living an extraordinary life!
Click here to find out where Victoria is signing her latest book.
SPEAKING ENGAGEMENTS
Click here to view opportunities to hear Victoria speak.
Victoria is available to speak at conferences, churches, and specials events. Videos and podcasts are less impactful than interacting with an inspiring personality. A passionate, engaging living expert, sharing ideas is more powerful and effective than words alone.
When you hire Victoria as a speaker, you get someone who is at ease engaging the audience and encouraging interactive participation.
Sample Topics
• Insights into Love
• Go Beyond your Limitations
• Enhance your Relationships
• Restoring Responsibility
Contact me, we'll discuss whether your needs, budget, and timing match mine.
CLASSES
What if love guided your life? What would your experience of life be like if you could bring love into every area and every situation? Come find out!
Staring early in 2018, Victoria will be providing monthly group discussions from her book, What Would Love Do Right Now? – A Guide to Living an Extraordinary Life. Every month she will highlight a unique area of life and assist you, using her Inquiry to Resolution™ process, to release the negative beliefs and patterns holding you back from feeling joyful and fulfilled.
Dates and location to be determined.
WORKSHOPS
Immerse yourself in love! Bring love to every area of your life to create and manifest an extraordinary life! This three-day workshop will transform the life you are currently living to one in which love is present, palatable and guides your life.
The workshop uses the principles and processes from Victoria's book, What Would Love Do Right Now? – A Guide to Living an Extraordinary Life, to determine what stops you from having the life you love.
You will evaluate each area of your life: romantic relationships, professional life, health, finances, creativity, communication, spirituality and life purpose by doing an Inquiry to Resolution™ process. This will allow you to bring love to that area and take part in creating and living an extraordinary life!
Coming soon in 2018.